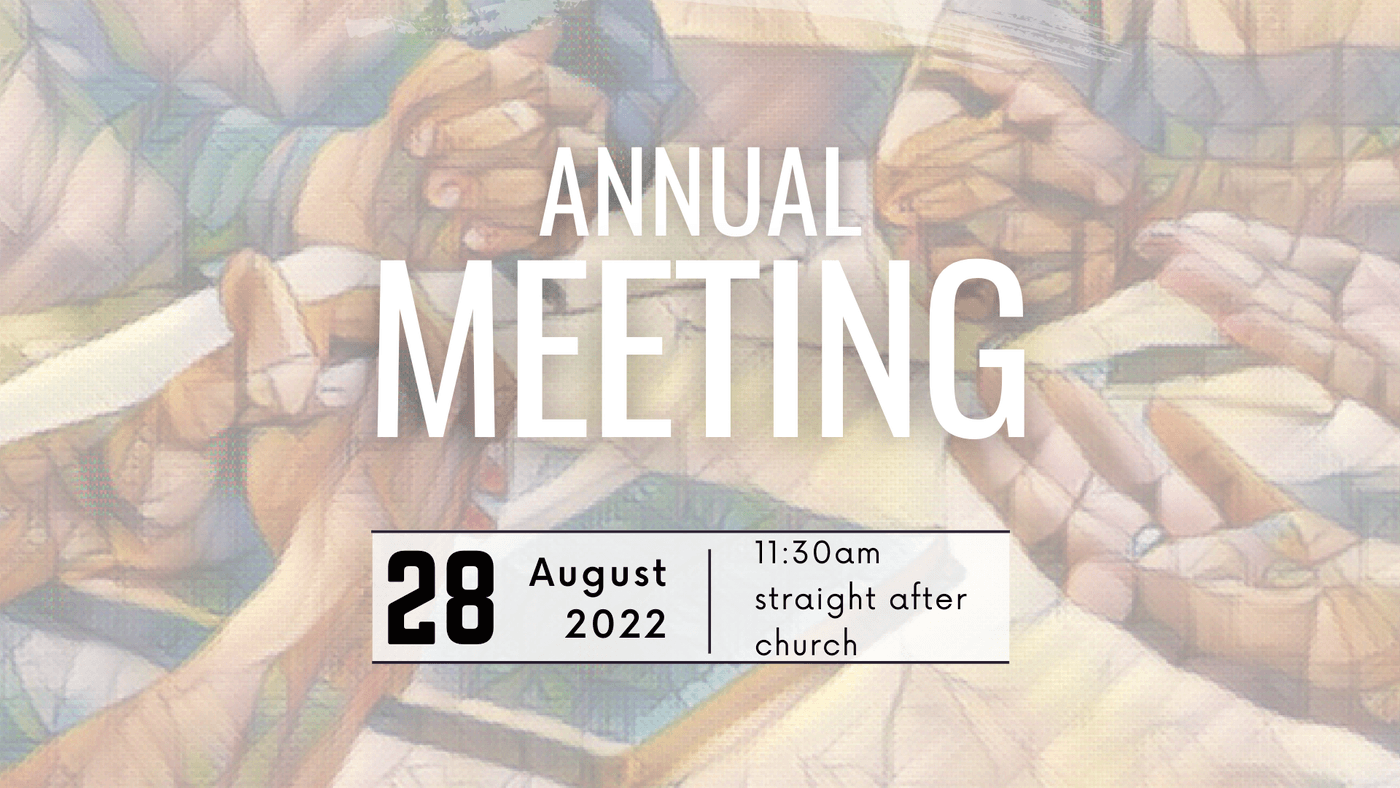 Every year our church is required to hold an Annual Meeting. At the annual meeting we reflect on God's goodness to us over the past 12 months and look ahead to the year to come. We accept the parish budget and elect people to various rolls. To participate you must qualify for and sign the electoral roll. The roll will close on 14th August 2022 until after the Annual Meeting. Qualifications to sign are listed on the form below.
---
Annual Meeting Papers
The reports and financial papers for the Annual Meeting will be available here for download on 14th August 2022.
---
Date, Time and Location
Date: Sunday 28th August 2022
Time: 11:30 straight after the Sunday service
Location: in the Church building.
---
Annual Meeting Agenda 2022
Sunday 28th August 2021 – 11:30am
Prayer + Rules and Expectations
Apologies
Rectors Report
Parish Accounts 2021/2022 and Parish Budget 2022/2023
Appointment of an Auditor
Determine the number of ordinary members of the Parish Council
Appointment of Returning Officers by Incumbent (if required)
Casting of Votes (if required)
Confirm the minutes of the previous Annual Meeting
Wardens' Report
Other Reports
Parish Mission Representative
Election of Parish Positions (warden and parish councillor)
Motion of Thanks
AOB applicable to an Annual Meeting (please submit any business you wish to be considered by Sunday 14th August by clicking here.)
---
Nominate someone to Serve
This year we'll be electing people to the roles of Parish Councillor and Warden. You can view the roles and responsibilities for a PC Member here and a Warden here.
Nomination forms will be available here once nominations open on 14th August however now is a good time to begin prayerfully considering and talking to people you'd like to nominate.
---